Details of Finland's Potential NATO Membership Revealed – Media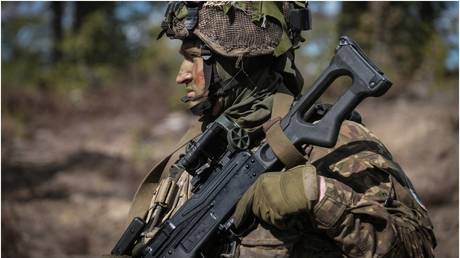 Officials have reportedly listed the 'threat' of Russia as a reason for joining the US-led military bloc
The draft bill on Finland's NATO membership contains no restrictions on the bloc's bases and deployment of nuclear weapons on its soil to deter Russia, Finnish newspaper Iltalehti reported on Wednesday, citing foreign policy and security sources.
According to Iltalehti, Finland's bill on NATO membership is "practically ready" and will be submitted for comments in two weeks.
The draft considers nuclear weapons to be an important part of the bloc's deterrence against Russia. Sources cited by the outlet say it would be difficult to create a defense plan for Finland in NATO if, for example, nuclear-capable bombers cannot be sent into the country's airspace.
Foreign Minister Pekka Haavisto stated this month that Helsinki has received assurances from the US, Britain, and "key European countries" that the alliance will come to Finland's aid even before it joins the military bloc.
"I would believe that any direct threat to Finland would also get help from these partners, even though we are not yet members of NATO," the minister said.
US Ambassador to Finland Douglas Hickey was quoted by Politico last month as saying he is confident Finland and Sweden will be in NATO by the end of the year.
A historically non-aligned country, Finland, along with neighboring Sweden, applied to join NATO following the launch of Russia's military operation in Ukraine in February. The bloc formally invited both nations to become members in late June.
Accession will be finalized only after ratification by the organization's 30 member states. So far, 28 NATO countries have ratified the membership of both Sweden and Finland, with T?rkiye and Hungary yet to do so.
Earlier this month, Turkish President Recep Tayyip Erdogan, speaking at a press conference in Prague, said that "Finland is not a country where terrorists are roaming freely," but Sweden is "a place where terror is rampant."
On October 22, Turkish state-run news outlet Anadolu Agency reported that Finland was preparing to send a delegation to the country on Tuesday. According to the outlet, the talks focused on the extradition of Kurdish militants, as this is a key concern for Ankara.
In June, Kremlin spokesman Dmitry Peskov stated that the accession of Finland and Sweden to NATO would only increase tensions between Russia and the West.
Original Source: rt.com
US Officials 'obsessed' With Wagner Group – Media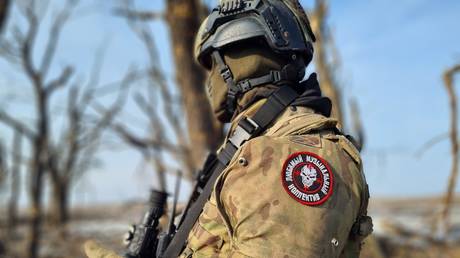 The CIA and State Department have reportedly tried to pressure African governments into kicking out the Russian contractors
The Biden administration has attempted to pressure African nations into expelling the Wagner private military company, with the firm's presence in Sudan and Libya "at the top of every meeting" between American and Egyptian officials, the Associated Press reported.
CIA Director William Burns focused on the group during recent trips to Egypt and Libya, while Secretary of State Antony Blinken discussed Wagner with Egyptian President Abdel Fatah el-Sisi during a jaunt to Cairo last month, the news agency reported on Saturday.
"Wagner obsesses [the American officials]," said an Egyptian senior government official. "It is at the top of every meeting."
Egypt is a key conduit for American policy, with the Biden administration going as far as using Cairo to pass messages to Moscow, rather than communicating through direct channels. According to the report, the Egyptians reached out to their Sudanese and Libyan counterparts to relay Washington's displeasure with Wagner.
Abbas Kamel, the director of Egypt's Intelligence Directorate Agency, urged the head of Sudan's ruling sovereign council, General Abdel-Fattah Burhan to address Wagner's "use of Sudan as a base" for operations in Central Africa, a Sudanese official said. Burns himself visited Libya to speak to the country's competing governments, discussing Wagner with Libyan National Army (LNA) commander Khalifa Haftar, the report claimed.
Egypt reportedly asked that Haftar not station Wagner soldiers near its borders, while the US demanded that Wagner fighters be removed from their posts safeguarding Libyan oil facilities.
Founded in 2014, Wagner has mainly operated as a security contractor in Africa and the Middle East. The precise details of its deployments are not made public, although Wagner founder Yevgeny Prigozhin has confirmed that his forces fought in Libya. He denied involvement in Sudan when asked by American journalists last year, saying at the time that he was "not aware of any evidence that the Wagner Group exists," and that he had personally donated humanitarian aid to the conflict-stricken country.
"Who arranged wars and revolutions in Korea, Vietnam, Afghanistan, Libya, Syria, Mozambique, Central Africa, and so on?" he told RT last month. "Some of these countries later turned to the Wagner PMC, which put an end to these wars with an iron fist."
The US declared the Wagner Group a "transnational criminal organization" last month, after Wagner forces notched up a series of victories against the Ukrainian military in Donbass.
Despite Washington's apparent "obsession" with the group, "there is no evidence yet that the Biden administration's pressure has yielded results in either Sudan or Libya," the AP report noted.
Article: rt.com
Serbia Names 'greatest' Mistake by West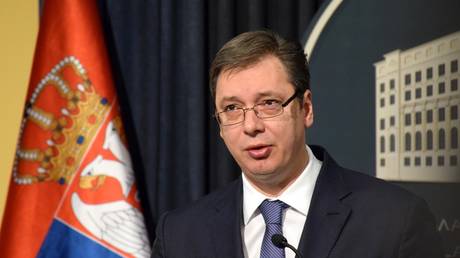 The decision to supply Kiev with battle tanks has only further united Russians, Aleksandar Vucic has said
The West's recent announcement that it would be supplying Ukraine with main battle tanks marks a major miscalculation, Serbian president Aleksandar Vucic said on Friday. That's as Moscow has threatened to burn any Western equipment that enters Ukraine and has vowed to retaliate "far beyond the scope of armored vehicles."
Vucic noted that the decision to supply Ukraine with tanks, especially with the "terrifying" German Leopard 2s, is the West's "biggest" political mistake because it effectively manages to "unite the Russians like never before."
Last month, Germany and the US agreed to provide a number of heavy tanks to Kiev. Washington has promised between 30 and 50 of its M1 Abrams tanks, while Berlin pledged 14 Leopard 2A6s from the Bunderswehr's own stocks. An additional 51 of the same model and 88 of the older Leopard 1 model may also come from Rheinmetall as they get refurbished, Germany said.
Berlin also gave the green light to countries that have expressed a desire to export their own Leopards to Ukraine. Those include Poland, Finland, Spain, Norway and the Netherlands. The UK and Canada have also said they would be sending their heavy equipment to Kiev.
The decision has been heavily criticized by Russia, which has called it an "extremely dangerous" move that threatens to escalate the conflict in Ukraine. On Thursday, Russian President Vladimir Putin likened the new threat of "German Leopard tanks with crosses on their hulls" to the Soviet Union's struggle against Hitler's forces and warned that Moscow's response would not be limited to weapons.
Other countries have also voiced their concerns about the West's move. Turkish President Recep Tayyip Erdogan said that the delivery of NATO tanks to Ukraine was a "high-risk endeavor" that would fail to help end the conflict and only "line the pockets of gun barons."
Hungarian Prime Minister Viktor Orban also slammed Germany's decision, noting that these Western countries are "drifting" towards becoming active participants in the conflict. Orban has insisted that instead of arming Kiev, the West should be pursuing "a ceasefire and peace talks" in Ukraine.
Moscow has repeatedly objected to Western weapon deliveries to Ukraine, arguing that non-stop arms shipments only serve to prolong the conflict and risk direct confrontation with NATO. The Kremlin has also insisted that no amount of military aid will prevent Moscow from reaching its objectives and warned that the tanks would "burn like the rest of Western weapons" supplied to Kiev.
Source: rt.com
Germany Approves Retired Tanks for Ukraine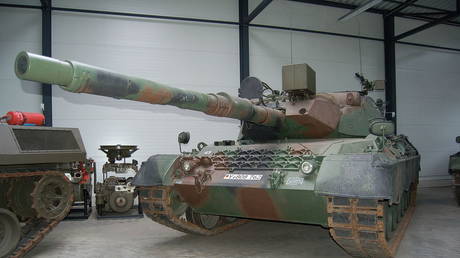 Berlin has given German defense industry companies permission to export older Leopard 1 tanks to Ukraine, the German media reported on Friday, citing government spokesman Steffen Hebestreit.
The official confirmed to journalists that a relevant export license was granted, without providing any further details.
"I do not want to say much more at the moment," Hebestreit told journalists during a government press conference on Friday, according to Der Spiegel weekly. The official also said that further clarifications on the issue would be provided "within the coming days or weeks."
Rheinmetall, one of Germany's top arms manufacturers, suggested sending Leopard 1 tanks from its stocks to Ukraine as early as April 2022. At the time, the company stated it could supply up to 50 tanks to Ukraine within just six weeks if granted the government's approval. The company also added that it was still checking on the condition of the tanks at the moment.
In mid-January, Rheinmetall CEO Armin Papperger told the tabloid Bild that it would take a long time to prepare the Leopard 1 tanks for potential export to Ukraine even if the company got a relevant license "tomorrow." The tanks were "completely disassembled and built anew," he said. According to Papperger, the delivery might take up to a year.
Der Spiegel reported on Friday that there were 29 Leopard 1 tanks largely ready for delivery, which were being stored by another defense manufacturer – the Flensburger Fahrzeugbau Gesellschaft (FFG). However, both Der Spiegel and SZ newspapers cited a lack of ammunition for the tanks in connection with the potential delivery.
Both Rheinmetall and FFG said they could potentially supply dozens of Leopard 1 battle tanks to Ukraine, but only if Kiev was willing to buy them, SZ reported. Earlier, Rheinmetall said that overhauling the heavy equipment would cost hundreds of millions of euros – a cost it could not cover on its own.
Earlier, Berlin also vowed to send 14 modern Leopard 2 main battle tanks out of the army's stockpiles to Ukraine. Moscow has repeatedly criticized the West for supplying weapons to Ukraine, arguing that they only served to prolong the conflict and human suffering.
Article: rt.com