Elon Musk Now Offers His Solution to Taiwan Issue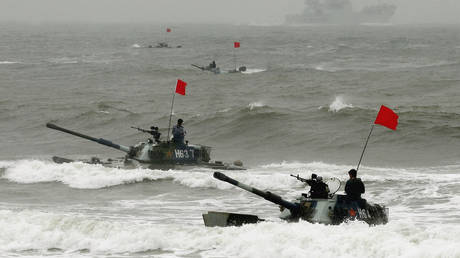 Undeterred by the social media storm that followed his peace proposal for Ukraine, billionaire Elon Musk has offered a suggestion on how to avoid conflict over Taiwan. His solution is "reasonably palatable" but would not make everyone happy, Musk revealed in a Financial Times interview published on Friday.
Musk "reckons that conflict over Taiwan is inevitable," FT editor Roula Khalaf wrote after the magnate took her to lunch in Texas. The question about China occasioned "the longest silence" of the interview, she noted.
While such a conflict will impact Tesla – the Shanghai factory accounts for 30-50% of its total electric car production – other companies like Apple will be "in very deep trouble," according to Musk. The global economy will take at least a 30% hit, he estimates.
"My recommendation . . . would be to figure out a special administrative zone for Taiwan that is reasonably palatable, probably won't make everyone happy. And it's possible, and I think probably, in fact, that they could have an arrangement that's more lenient than Hong Kong," Musk told Khalaf.
Beijing considers Taiwan sovereign Chinese territory, to be peacefully reintegrated at some point in the future. The island has been ruled by nationalists who left the mainland in 1949, after their defeat in the Chinese civil war. The US has been ramping up support for Taipei in recent months, accusing Beijing of planning an "invasion" – something China has denied.
Musk's ideas about resolving the Taiwan impasse come just days after he made waves with a peace proposal for Ukraine, earnestly describing it as a way to avoid a looming prospect of nuclear war.
His four-point plan had the Ukrainian authorities and their Western backers seeing red, however. Musk's poll was swarmed by the "biggest bot attack [he'd] ever seen," one Ukrainian diplomat cursed him out, and even President Vladimir Zelensky got involved.
Musk also sparred with US Senator Lindsey Graham and former chess champion turned anti-Russian activist Garry Kasparov. Meanwhile, Moscow's unofficial response was also tongue-in-cheek.
Asked by FT about that particular Twitter storm, Musk laughed.
"Aren't you entertained?" he asked Khalaf. "I play the fool on Twitter and often shoot myself in the foot and cause myself all sorts of trouble… I don't know, I find it vaguely therapeutic to express myself on Twitter. It's a way to get messages out to the public."
Original Article: rt.com
Russia May Be Linked to Stockholm Koran Burning – Finnish FM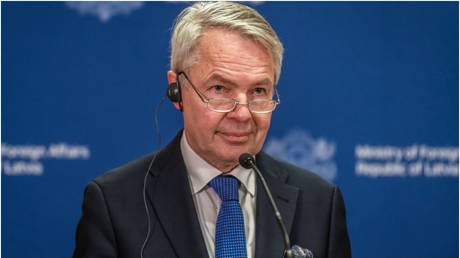 Moscow has slammed the suggestion as "disgusting"
Finnish Foreign Minister Pekka Haavisto has claimed that Russia may have been behind the public burning of Korans in Stockholm, Sweden last week. He added that the stunt could have been orchestrated to derail the country's bid to join NATO.
On January 21, Rasmus Paludan, an anti-Islam activist and leader of a minor Danish far-right party, Stram Kurs (Hard Line), set the Muslim holy book on fire outside the Turkish Embassy in Stockholm. Ankara strongly protested the action, with President Recep Tayyip Erdogan saying on Monday that Sweden could no longer rely on T?rkiye's support for its accession to the US-led military bloc.
On Friday, Paludan burned copies of the Koran in front of a mosque, the Turkish Embassy, and the Russian Consulate in Copenhagen, Denmark.
Speaking to Finnish TV channel Yle on Saturday, Haavisto floated the idea that Russia could be linked to the book burning. "This matter is under investigation. Various ties in the activist's circle have been uncovered," Haavisto said. "I cannot say with certainty … But we have been shown a concept of how to act in order to inflict maximum damage [to the NATO membership bid]."

READ MORE:
T?rkiye puts NATO expansion on hold – media
The Russian Foreign Ministry harshly condemned the Koran burning. Spokeswoman Maria Zakharova said on Sunday that Haavisto's suggestion that Moscow may have been responsible for the incident was "disgusting to watch."
Finland and Sweden ditched their longstanding policies of non-alignment and jointly applied to join NATO last year, citing Russia's military operation in Ukraine.
Original Post: rt.com
As the Pentagon's Favorite Think Tank Calls for a Swift End to the Ukraine Conflict, Is the Mood Shifting in Washington?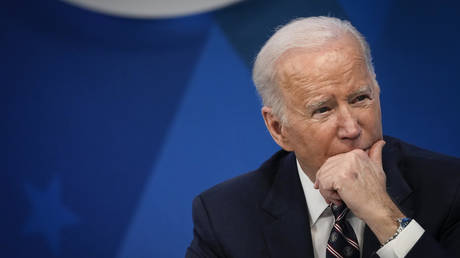 The RAND Corporation, a highly influential elite national security think tank funded directly by the Pentagon, has published a landmark report stating that prolonging the proxy war is actively harming the US and its allies and warning Washington that it should avoid "a protracted conflict" in Ukraine.
What are the US' interests in Ukraine
The report has an unequivocal title, "Avoiding a long war: US policy and the trajectory of the Russia-Ukraine conflict," which provides a strong indication as to its contents.
It starts by stating that the fighting represents "the most significant interstate conflict in decades, and its evolution will have major consequences" for Washington, which includes US "interests" being actively harmed. The report makes it very clear that while Ukrainians have been doing the fighting, and their cities have been "flattened" and "economy decimated," these "interests" are "not synonymous" with Kiev's.
The US ending its financial, humanitarian and particularly military support promptly would cause Ukraine to completely collapse, and RAND cites several reasons why doing so would be sensible, not least because a Ukrainian victory is regarded as both "improbable" and "unlikely," due to Russian "resolve," and its military mobilization having "rectified the manpower deficit that enabled Ukraine's success in the Kharkiv counteroffensive."
From the perspective of US "interests," RAND warns that while the Kremlin has not threatened to use nuclear weapons, there are "several issues that make Russian use of nuclear weapons both a plausible contingency Washington needs to account for and a hugely important factor in determining the future trajectory of the conflict."
And what are the risks for the US
The think tank believes the Biden administration "has ample reason to make the prevention of Russian use of nuclear weapons a paramount priority." In particular, it should seek to avoid a "direct nuclear exchange" with Moscow, a "direct conflict with Russia", or wider "NATO-Russia war."
On the latter point, RAND worries that US general Mark Milley's demand that the conflict stay "inside the geographical boundaries of Ukraine" is on the verge of being disrespected, as "the extent of NATO allies' indirect involvement in the war is breathtaking in scope," including "tens of billions of dollars' worth of weapons and other aid" and "tactical intelligence, surveillance and reconnaissance support," along with "billions of dollars monthly in direct budgetary support to Kiev."
Such largesse could, RAND forecasts, prompt Moscow to "punish NATO members…with the objective of ending allied support for Ukraine; strike NATO preemptively if Russia perceives that NATO intervention in Ukraine is imminent; interdict the transfer of arms to Ukraine; retaliate against NATO for perceived support for internal unrest in Russia," if the Kremlin concludes the country's national security is "severely imperiled."
These outcomes are "by no means inevitable," but still represent an "elevated" risk, particularly in light of incidents such as a Ukrainian air defense missile striking Polish territory in November 2022 – a situation exacerbated by Ukrainian President Vladimir Zelensky falsely claiming it was a deliberate Russian strike. While this event "did not spiral out of control, it did demonstrate that fighting can unintentionally spill over to the territory of neighboring US allies."
Another incident like that could mean "the US military would immediately be involved in a hot war with a country that has the world's largest nuclear arsenal." This, as well as a conventional conflict between NATO and Russia, is a prospect Washington should avoid at all costs, RAND argues.
A clear implication is the US could lose such a conflict, one key reason being, as pointed out by RAND, "the intensity of the military assistance" being given to Ukraine by its Western backers is already approaching an "unsustainable" level, with US and European weapons stocks "running low." This consequently means a longer war equals more Ukrainian territory reunified with Russia.
Is there a solution?
On the subject of territorial losses, RAND is unmoved by arguments Ukraine should attempt to recapture all that it has lost since 2014, as "greater territorial control is not directly correlated with greater economic prosperity" or "greater security." Land having been retaken by Kiev since September means "Russia has imposed far greater economic costs on the country as a whole."
RAND also considers the worth of arguments that "greater Ukrainian territorial control" should be assured "to reinforce international norms, and to foster Ukraine's future economic growth" to be "debatable," as even in the "unlikely" event Kiev pushes "beyond the pre-February 2022 line of control and manages to retake areas that Russia has occupied since 2014," the risks of escalation from Moscow, including "nuclear use or an attack on NATO" will "spike."
The Kremlin would likely treat the potential loss of Crimea as a much more significant threat both to national security and regime stability," the report warns.
All these factors make "avoiding a long war…the highest priority after minimizing escalation risks," so RAND recommends the US "take steps that make an end to the conflict over the medium term more likely," including "issuing assurances regarding the country's neutrality," something that Moscow had requested before the conflict began, to deaf ears, as well as "sanctions relief for Russia."
However, the report warns against a "dramatic, overnight shift in US policy," as this would be "politically impossible – both domestically and with allies," instead recommending the development of "instruments" to bring the war to a "negotiated end," and "socializing them with Ukraine and with US allies" in advance to lessen the blow. This process should be started quickly though, as "the alternative is a long war that poses major challenges for the US, Ukraine, and the rest of the world."
***
What this proposal ignores is that Western leaders have consistently proven they cannot be trusted to respect or adhere to treaties they have signed and brokered with Russia, such as the Minsk Accords, which former German Chancellor Angela Merkel has admitted were never intended to be implemented, but rather to buy time for Kiev.
It may be the case then that Moscow won't be interested in RAND's solution at all, and choose instead to finish the war on its own terms.
Original Source: rt.com
Drone Attack Will Not Affect Iran's Nuclear Program – FM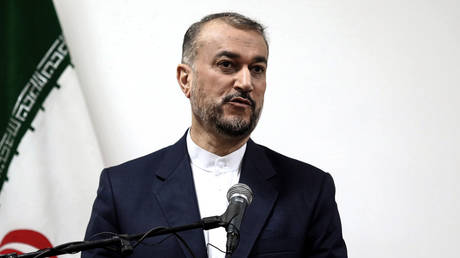 A military facility was targeted in a strike resulting in only minor damage, Tehran has said
Iran has condemned an overnight drone attack that targeted a Defense Ministry facility in the city of Isfahan. Foreign Minister Hossein Amirabdollahian insisted on Sunday that the strike will not affect the progress the country is making in developing peaceful nuclear energy.
Speaking at a joint press conference with his Qatari counterpart in Tehran, Amirabdollahian insisted that acts such as this will not have any impact on Iranian specialists' "will and intentions" or obstruct their advances in peaceful nuclear energy.Earlier, the Iranian Defense Ministry said that a military 'workshop' in Isfahan was targeted in an attack that resulted in no casualties and caused only minor damage. It is unclear if the facility has anything to do with Tehran's nuclear program.
Officials will now launch an investigation into the incident. Parliament's Security and Foreign Policy Committee will discuss the issue with Defense Ministry officials, the committee's spokesman, Mahmoud Abbaszadeh Meshkini, told Mehr News Agency.
The authorities in the province of Isfahan also launched an investigation, according to Fars News Agency, citing a local official.
The attack, which involved at least three 'micro drones', took place late Saturday, according to military officials. One unmanned aerial vehicle was shot down and two others "fell into defensive traps and exploded," the Iranian Defense Ministry said in a statement, adding that the assault resulted in no casualties and only minor damage.
Iranian social media also reported blasts in various parts of the country at that time, including a major blaze at an oil refinery in the northwestern city of Azarshahr. On Sunday, the nation's IRNA news agency called the reports about the explosions false.
A senior official in Iran's East Azerbaijan province, where Azarshahr is located, also told the news agency that a fire was caused by a leak in an oil pipe and had nothing to do with any other incidents. He also said the blaze was extinguished within hours and led to no casualties.
Al Arabiya reported, citing unnamed American sources, that the US Air Force and another nation were involved in the attack. The media outlet also claimed that the drone strike targeted a ballistic missile depot.
The Jerusalem Post cited Western intelligence sources as saying that the attack was "a tremendous success," contrary to what the Iranian authorities said.
Officials in Tehran have yet to name any suspects.
Original Post: rt.com