Israel Prepares Reservists As Gaza Conflict Intensifies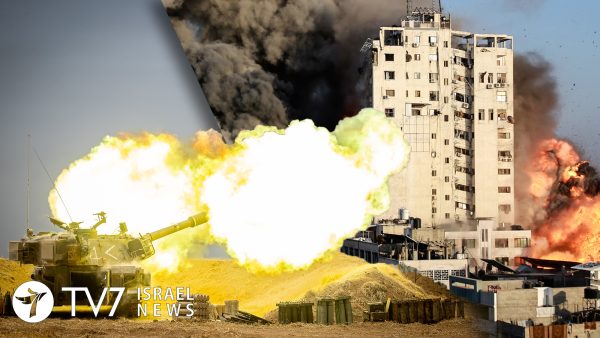 Israeli Defense Minister Benny Gantz gave the green light on Friday to call up some 25,000 military reservists, should they be required. Israel is on a state of high alert, with Palestinian militants promising revenge for the killing of one of their top commanders in an Israeli airstrike.
Gantz' office announced the potential call-up less than an hour after Palestinian Islamic Jihad (PIJ) leader Zihad Al-Nakhala threatened to rain down missiles on the Israeli capital of Tel Aviv over the "coming hours."
Al-Nakhala issued his threat after Israeli warplanes fired a missile at an apartment building in Gaza City, killing PIJ commander Taysir al-Jabari. The strikes, dubbed 'Operation Breaking Dawn' by the Israel Defense Forces (IDF), targeted an additional ten to 20 PIJ terrorists, and killed members of a "terrorist squad" who were "on their way to carry out an anti-tank missile and sniper attack," the Israeli military claimed.
Palestinian officials said that the strikes killed nine people, including a five-year-old girl, and wounded 55 others.
Alongside al-Nakhala's threat, a 'Joint Operations Room' representing multiple other Palestinian militant groups issued a statement warning that the Israeli strikes "won't go unpunished."
Preparations for a Palestinian retaliation are underway in Israel, with the IDF opening its emergency High Command Post and deploying Iron Dome missile defense batteries near the cities of Beersheba, Tel Aviv, and Jerusalem. Bomb shelters have also been made ready in the capital, while police and firefighters have been dispatched to areas near Israel's borders with Gaza in anticipation of rocket fire.
Shortly after Gantz' announcement, Israeli forces renewed their assault on Gaza, Palestinian sources said. Another PIJ operative was reported killed, as IDF spokesman Ron Kochav told Israel's Channel 12 "we're in the midst of a targeted campaign against the Palestinian Islamic Jihad," and that Israel is hoping not to drag Hamas into the rapidly-escalating conflict.
The IDF meanwhile posted video footage of its troops forming up and apparently preparing for combat.
The latest escalation began when Israeli forces arrested PIJ's West Bank leader, Bassem Saadi, in the city of Jenin on Monday. A Palestinian teenager was killed in the raid on Saadi's home, triggering outcry across the Palestinian territories. As the PIJ placed its fighters on high alert, Israeli officials repeatedly warned this week of impending revenge attacks.
Original Article: rt.com
Danish Foreign Fighter Says He Fears Deportation From Ukraine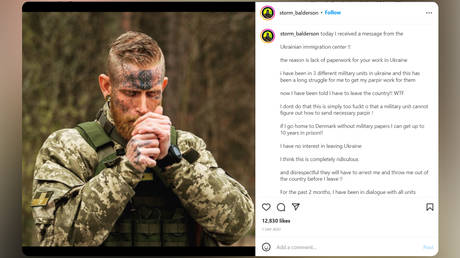 The 32-year-old "viking volunteer" claims he could be sent home and may face time in prison after Kiev rejected his visa
Danish national Karl "Storm" Balderson could face deportation from Ukraine and then face time in prison after Kiev authorities rejected his visa, the fighter claimed on his social media on Monday.
Balderson traveled to Ukraine in early March, shortly after Russia launched its special military operation, to join Kiev's International Legion. The 32-year-old blogger claims to have taken part in battles near Bucha and Irpen and has been seen alongside the Wiking Team, which consists primarily of nordic nationals fighting in Ukraine.
Dubbed the "viking volunteer," Storm has gained something of a following on social media and many of his fans have started donating to the Danish national, who now says he wants to remain in Ukraine and become a Ukrainian citizen and has apparently even opened up a tattoo salon in Kiev.
However, in a Facebook post explaining his situation, Balderson stated that he was contacted by the Ukrainian immigration center who said they have rejected his visa because they had not received any paperwork regarding his service in the Ukrainian Armed Forces and have ordered him to leave the country.
Balderson insists he has served in three different military units within the International legion, and expressed his frustration that they "cannot figure out how to send necessary papers."
"If I go home without military papers I can get up to 10 years in prison," said Balderson, who has an arrest warrant for destruction of property in Denmark which, according to him, would be waived if he presents army paperwork.
His fans have now started a social media campaign to draw the attention of Ukrainian officials to the issue and so far it seems to have caught the eye of David Braun, the Parliamentary leader of Ukrainian President Vladimir Zelensky's Servant of the People party.
Balderson is one of thousands of foreign fighters who have responded to a call by Zelensky and flocked to Ukraine since the launch of Russia's military operation on February 24. Moscow has estimated that almost 7,000 of what it describes as "mercenaries" have arrived in Ukraine since the outbreak of the conflict.

READ MORE:
Ukraine's military morale in decline – NYT
However, according to Russia's defense ministry, the number of foreign fighters there has been steadily diminishing, due to either Russian strikes on Foreign Legion bases or to the fighters leaving the country voluntarily. The ministry's latest report suggests that there are currently 2,190 foreign fighters and specialists left in Ukraine.
Article: rt.com
Johnson Compared Job to a 'steel Condom'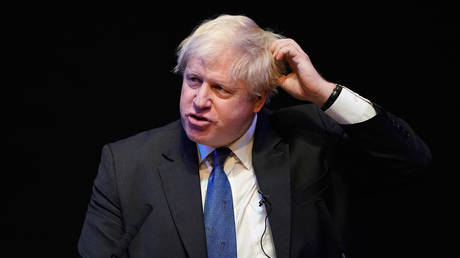 Tory peer claims outgoing PM used colorful language to describe his Foreign Office term
Caretaker UK Prime Minister Boris Johnson once described his job as foreign secretary – the post he held from 2016 to 2018 – as being "imprisoned in a steel condom." Baroness Davidson, a former Scottish Tory leader and no friend of Johnson, revealed the saucy turn of phrase in a LBC interview.
Ruth Davidson resigned as the leader of Scottish Conservatives in 2019, shortly after Johnson became prime minister, and has been highly critical of him since. She later became baroness of Lundin Links in the County of Fife, and is presently sitting in the House of Lords as a life peer.
Asked about any anecdotes about Johnson during a LBC show at the Edinburgh Fringe festival, Davidson recalled a reference to his term running the Foreign Office.
"He once described being foreign secretary to me as like being enclosed in a steel condom," she told LBC's Iain Dale. "I found it odd because I hadn't asked him. I think he meant the amount of attention he had from civil servants to make sure he didn't say anything. 'Imprisoned in a steel condom' is what he said."
"I've never heard that as a phrase," Davidson added. "It would certainly affect performance, but this is not my area of expertise, as I think you've already covered." Davidson came out as a lesbian in 2015.
Dale responded by saying he was "quite surprised that Boris Johnson knows what a condom is," in an apparent reference to the PM having fathered seven children, including two with his current wife.
Johnson, a former journalist and mayor of London, served as foreign secretary in Theresa May's cabinet for a salary of ?145,000 ($175,000) a year. He resigned in July 2018 and worked behind the scenes to oust May. Last month, he stepped down as Conservative leader amid a widespread rebellion in his cabinet, staying on as caretaker PM until a new party leader is elected.
The remaining two candidates to replace him are former Chancellor of the Exchequer Rishi Sunak and Foreign Secretary Liz Truss – who has yet to comment on Johnson's description of her job.
Original Post: rt.com
Republicans Vow to Investigate FBI's Trump Raid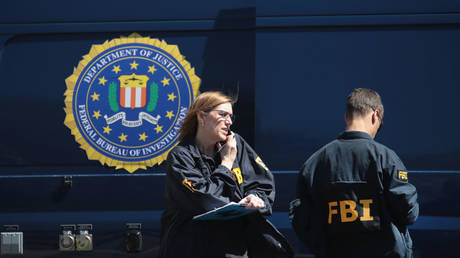 The US House GOP leader has decried the "weaponized politicization" of law enforcement after the ex-president's home was searched
US House Minority Leader Kevin McCarthy (R-California) and other Republican lawmakers have condemned President Joe Biden's administration for raiding the Florida home of Donald Trump, warning that they will investigate politicization of the Department of Justice (DOJ) when they take back control of Congress.
"The Department of Justice has reached an intolerable state of weaponized politicization," McCarthy said on Monday night, hours after FBI agents executed a search warrant at Trump's Mar-a-Lago residence. "When Republicans take back the House, we will conduct immediate oversight of this department, follow the facts, and leave no stone unturned. Attorney General [Merrick] Garland, preserve your documents and clear your calendar."
A "large group" of FBI agents raided the former president's home and broke into his safe, Trump said on Monday. The search was reportedly related to a probe into Trump's handling of classified documents. "Such an assault could only take place in broken, third-world countries," he said. "Sadly, America has now become one of those countries – corrupt at a level not seen before."
Republicans in Congress fumed over the raid and demanded explanations from Garland and FBI Director Chris Wray. "Why don't Chris Wray and Merrick Garland come in front of us this Friday and answer our questions?" Representative Jim Jordan (R-Ohio) asked. "If this is so important to go after President Trump in this unprecedented way, come and answer our questions in the Judiciary Committee in the House of Representatives."
Jordan argued that Democrats have used intelligence and law enforcement agencies to go after their political enemies, as Senate Majority Leader Chuck Schumer (D-New York) warned they would after Trump was elected in 2016. "First it was the Mueller investigation, then it was impeachment one, then it was impeachment two. And now it's January 6 committee, and none of that's working, so they go to this step. They raid a president's home."
Representative Mike Turner (R-Ohio), the top-ranking Republican on the House Intelligence Committee, said in a letter to Wray on Monday that the FBI director must explain to lawmakers the national security justification for the Mar-a-Lago raid. "In the history of our country, this action is unprecedented," he said, adding that as the top Republican overseeing intelligence, he was unaware of any alleged security threat posed by documents in Trump's possession.
"I am exceptionally skeptical of this being anything other than politically motivated," Turner said. "There are serious questions about the unprecedented FBI raid reportedly seeking classified materials from former President Trump's residence."
Trump has repeatedly hinted that he will run for president in 2024, setting up a potential rematch with Biden. Critics, such as Representative Matt Gaetz (R-Florida), have suggested that the January 6 committee investigating the US Capitol riot was convened to block Trump from seeking public office again. Representative Scott Perry (R-Pennsylvania) called the committee's televised hearings a "Soviet-style show trial."
"The FBI flew agents from Washington, DC, to Mar-a-Lago for the sole purpose of advancing the bureau's years-long campaign to take down President Trump," Senator Marsha Blackburn (R-Tennessee) said on Twitter. She called the raid "a political witch hunt."
Representative Lauren Boebert (R-Colorado) joined the calls for an investigation of the FBI raid. "This cannot wait," she said. "We are turning into a banana republic at record speed."
Original Article: rt.com