Terror of Hemasaurus Nintendo Switch Review – 21st Century Rampage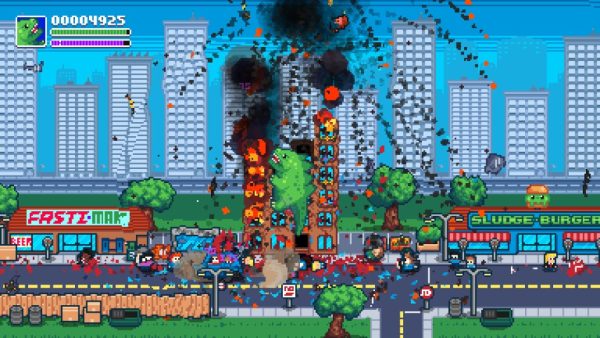 Terror Of Hemasaurus – unlikely to get a movie tie-in (pic: Digerati)
80s coin-op Rampage is the inspiration for this new indie homage, which also doubles as the best unofficial Godzilla game in years.
As The Last Of Us slowly drags us into a new era of high quality, live action video game adaptations, we can't help but think of 2018 movie Rampage, starring The Rock. Despite being relatively recent it encapsulates everything that has ever been wrong with video game movies, most obviously the fact that it bares almost no resemblance to the source material – to the point where we doubt most people even realised it was based on a game. To be fair, Rampage is very old, so if you need a reminder of what it was all about we highly recommend Terror Of Hemasaurus.
Originally released in 1986, Rampage was always a bizarre choice of game to turn into a film, whether it was adapted authentically or not. It was relatively famous at the time but it was an extremely shallow concept and none of its attempted sequels ever found a way to expand and modernise the gameplay. So while the idea of being a giant monster smashing up a city is definitely a fun idea it's one that you tend to get tired of pretty quickly.
That is the central problem that Terror Of Hemasaurus struggles with and largely conquers, thanks to more modern presentation and a surprising amount of variety. It's still a very limited concept but there's no denying that chomping and smashing your way through an entire city's worth of innocent people is strangely cathartic.
One of the many frustrating things about the Rampage movie is that despite the original game having a one sentence plot and set-up the film manages to completely ignore all of it. In the game the monsters were mutated humans, not giant-sized animals, while in Hemasaurus you're playing as a Godzilla style lizard (or three alternative monsters – including a giant sloth) that have been thawed out of the ice by a cult of ecoterrorists.
The idea is that the monsters have been freed in order to teach the world the dangers of climate change, but while the script is convinced it's a dark comedy in reality it's about as funny as root canal work. The whole game is the creation of just one person – Finnish developer Loren Lemcke – and while his obvious frustration at the world's lackadaisical attitude to climate change is perfectly understandable the mix of ecological diatribe and edgelord humour is cringe-inducingly unfunny.
Although the story campaign is extensive, thankfully the plot can be largely ignored, as all you really need to know is the set-up for each new level. At first this is pretty much exactly what you'd expect, if you're old enough to remember Rampage, as you trundle through a 2D cityscape, eating and stomping civilians on the ground and then climbing up skyscrapers to snack further and ultimately bring down the whole building.
Punching out sections of a building works just the same as Rampage but while the graphics of Hemasaurus are still purposefully retro they're more complex than they first appear. There's a neat physics system underpinning how the buildings fall, as you're encouraged to get them to tip over onto each other, creating a domino effect of architectural destruction.
The default goal of each level is to destroy a certain percentage of buildings or kill a certain number of civilians, but the game adds increasingly unlikely elements, such as kicking a giant ball bearing around town to using trampolines and participating in a brief PR campaign where you're saving dogs and kittens from a burning animal hospital.
There are so many bonus stages and one-off gimmicks that the core gameplay almost risks being lost in the shuffle, especially as it's surprisingly easy to bring down a building, thanks to an overly powerful ground pound and special attacks. Armed humans are also less of a problem than you'd imagine in story mode, although the various helicopters, tanks, airships, and gunmen do become more prevalent in endless mode.
The story mode for Terror Of Hemasaurus is not going to take anyone more than two or three hours to complete but as long as you skip the cut scenes it's a thoroughly entertaining bit of nonsense, with a four-player local co-op option if you want to drag in some friends as well.
Terror Of Hemasaurus – a four-player rampage (pic: Digerati)
It's a shame the script couldn't play up the absurd body count and outrageous levels of violence more effectively but in gameplay terms this is as good an update of the Rampage formula as you could imagine, at least from a 2D perspective.
It's interesting to think what it could be like with more complex visuals, but that might end up being too disturbing if the graphics were more realistic – with the few attempts there have been, such as the PlayStation 2's War Of The Monsters, focusing more on kaiju vs. kaiju battles.
This is a more direct homage to the original and as well as proving that Rampage can be updated for modern consumption it also proves that nigh-indestructible main characters can be fun to play as, at least for a little while – which has implications for superhero games.
Terror Of Hemasaurus isn't enough of a revelation to inspire a new wave of Rampage clones, or a movie adaptation, but it does show that even the oldest concept can be successfully revived, with the right amount of effort and gratuitous violence.
Terror Of Hemasaurus review summary
In Short: The best Rampage sequel that never was features entertaining amounts of 8-bit style violence and, while unashamedly shallow, proves there's life in the old coin-op yet.
Pros: Amusingly over-the-top action, with some fun physics involved with destroyed buildings. A surprising amount of variety and welcome co-op options.
Cons: Apart from the obvious simplicity of the gameplay, destroying buildings is a bit too easy. Painfully unfunny script and grating music.
Score: 7/10
Formats: Nintendo Switch (reviewed), Xbox One, PlayStation 4, Xbox Series X/S, PlayStation 5, and PC
Price: £13.49
Publisher: Digerati
Developer: Loren Lemcke
Release Date: 12th January 2023
Age Rating: 18
Email gamecentral@metro.co.uk, leave a comment below, and follow us on Twitter.

MORE : Chained Echoes review – the future agreed to change


MORE : The Case Of The Golden Idol review – the great detective adventure


MORE : Norco review – southern discomfort

Follow Metro Gaming on Twitter and email us at gamecentral@metro.co.uk
To submit Inbox letters and Reader's Features more easily, without the need to send an email, just use our Submit Stuff page here.
For more stories like this, check our Gaming page.
Source Here: metro.co.uk
Sexual Immorality Is Not Sinful, Archbishop of York Says – Church & Ministries News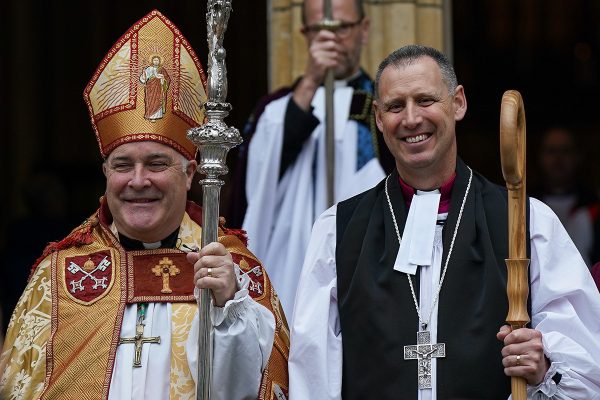 Sexual immorality is not sinful, Archbishop of York says – Church … The Christian Post
Original Post: christianpost.com
Paul Mescal Receives Apology From BBC After Broadcaster Makes Rather Awkward Blunder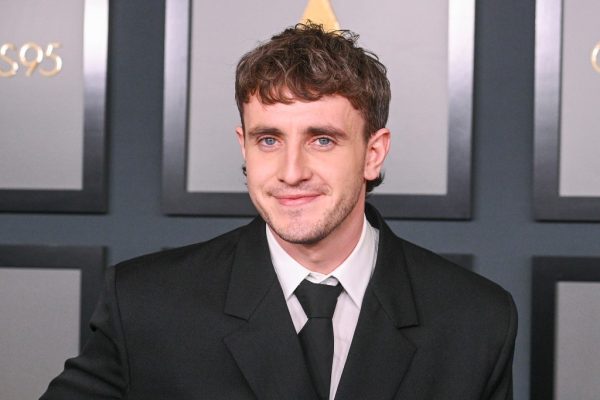 Irish actor Paul Mescal has been called British…again (Picture: Gilbert Flores/Variety via Getty Images)
His tweet clarifying his nationality may have been the most liked post in Ireland three years ago, but the BBC has had to apologise after getting a crucial fact about Oscar nominee Paul Mescal wrong.
Earlier this week the Irish actor was announced as one of the nominees for the upcoming Academy Awards.
The 26-year-old, who is from Maynooth, was given the nod for his leading role in indie flick Aftersun in the Actor in a Leading Role category.
In March, Paul will be going up against Austin Butler (Elvis), Brendan Fraser (The Whale), Bill Nighy (Living) and fellow Irishman Colin Farrell (The Banshees of Inisherin) in the prestigious category.
But when covering the nominations, the national broadcaster made a rather awkward error.
In text appearing on screen, the BBC reported: '2023 Oscar nominations: British actors Paul Mescal and Bill Nighy are nominated for leading role.'
The BBC has apologised for this mistake (Picture: eyeswideshut/ Twitter)
It has now apologised for the mistake, issuing a statement that read: 'In text running across the screen we reported that Paul Mescal was one of two British actors who had been nominated for an Oscar for a leading role.'
'The text should have said that Paul Mescal is Irish. We apologise for the mistake.'
When the mistake was made, plenty of people pointed it out and reminded the media outlet that Paul is very much Irish.
'BBC news seems to not know Paul Mescal is IRISH,' one person wrote.
Another added: 'The BBC should know that Paul Mescal isn't British.'
Plenty of people called out the BBC oversight (Picture: Twitter)
This person pointed out that Paul is very much Irish (Picture: Twitter)
Paul was one of several Irish Oscar nominees (Picture: Twitter)
It wasn't the first time this has happened though.
Back in 2020, when Paul picked up an Emmy nomination for his breakthrough role in Normal People, outlets including The Guardian called him British.
It lead the actor to tweet 'I'm Irish', which ended up becoming the most-liked post in his home country that year.
Paul picked up an Oscar nomination for his starring role in Aftersun (Picture: A24 via AP)
The message quickly racked up over 130,000 likes as well as over 12,000 retweets and over 1,600 replies.
His Oscar nomination helped break a record for Ireland too, with the country securing 14 nominations in the upcoming awards ceremony.
Other actors to get nods included Barry Keoghan, Brendan Gleeson and Kerry Condon.
When his nomination was announced Paul said it was 'truly a special moment for everyone involved in Aftersun'.
'To be recognised by the Academy is such an insane honour and I'm so utterly grateful.'
Got a story?
If you've got a celebrity story, video or pictures get in touch with the Metro.co.uk entertainment team by emailing us celebtips@metro.co.uk, calling 020 3615 2145 or by visiting our Submit Stuff page – we'd love to hear from you.

MORE : Gladiator sequel delayed as Paul Mescal agrees to reprise acclaimed West End role


MORE : Oscar-nominee Paul Mescal would definitely like to appear in a Winnie-the-Pooh live-action remake… so he can play Eeyore

Original Post: metro.co.uk
How Many Legs Are in the Carabao Cup Semi-finals? All the Rules Explained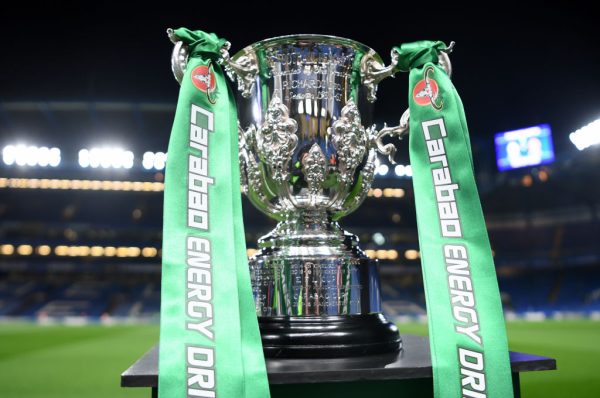 Only four teams remain in the competition (Picture: Michael Regan/Getty Images)
The Carabao Cup semi-finals continue tonight with Nottingham Forest welcoming Manchester United at the City Ground.
The winner of the tie will face either Newcastle United or Southampton in the final at Wembley on February 26.
With the regulations changing from one competition to another, here is your full lowdown of the rules in play across the semi-finals of the Carabao Cup 2023.
Are the Carabao Cup semi-finals played over two legs?
Yes, the Carabao Cup semi-finals will take place over two legs.
Newcastle beat Southampton 1-0 in the first leg of the first semi-final on Tuesday night, with the return leg scheduled for Tuesday, January 31 at 8pm.
Southampton and Newcastle played out an entertaining first leg (Picture: Mike Hewitt/Getty Images)
Meanwhile, Manchester United will host Nottingham Forest in the second leg of their semi-final on Wednesday, February 1 at 8pm.
VAR is in use for the first time in the Carabao Cup this season, having not featured in earlier rounds to ensure fairness across every tie.
Will extra-time and penalties be used in the Carabao Cup semi-finals?
If the score is level after the end of both legs then extra-time, and if required penalties, will be used to determine the winner.
This is the first time this season that matches finishing level in the Carabao Cup will head to extra-time, with ties previously proceeding straight to penalties in the event of a draw after 90 minutes.
The away goals rule will also not be in use for the two semi-finals.
The English Football League scrapped the rule ahead of the 2018/19, which up until that point only came into effect following the conclusion of extra-time.
To view this video please enable JavaScript, and consider upgrading to a web
browser that
supports HTML5
video
How many substitutes are allowed in the Carabao Cup?
Managers will be able to use up to five substitutes across three windows during the game (half-time not included).
An extra substitution is permitted in extra-time, whilst both teams can also use two concussion substitutes if required.

MORE : Manchester United still keen to sign a second forward this month but will be limited to another loan deal


MORE : Newcastle refuse to meet Everton's £60million valuation for Anthony Gordon and could turn attention to Hakim Ziyech

Follow Metro across our social channels, on Facebook, Twitter and Instagram
Share your views in the comments below
Article: metro.co.uk